New Adventurer
Blades of Urdual
The Blades of Urdual
1. General information about the Blades
1.1. Introduction
1.2. Guild rules
1.3. Alliances
2. Joining the Blades
2.1. Application
2.2. Trial
2.3. Crest and private subforum access
2.4. Recruiting
3. Guild Populace
3.1. Rank Information
4. Guild media
4.1. The crest
4.2. Miscellaneous
================================================================
1. General information about the Blades
1.1. Introduction
Four ancient beings, the so-called Loreldians, oversee the world of Daragoth. These beings are Torkalath, the God of Chaos, Felewyn, the Goddess of Order, Urdual, the God of Balance, and Pathos, the God of Duality. The Blades of Urdual are a group of warriors who are devoted to Urdual and the ways of Balance. The Blades of Urdual always assist those who are being overthrown by their opposition. By doing this, Daragoth remains balanced. Balance through neutrality, that is the way of life for all the Blades of Urdual.
The Blades of Urdual have been around for years. Though the exact creation date of the guild is uncertain, it is believed to be somewhere in the year 2002. The Blades of Urdual have always been one of the biggest and most active guilds, and right now we certainly are one of the oldest guilds. Joining the Blades of Urdual can be very beneficial to your in-game experience, since the Blades help each other with beating maps, gaining XP and finding rare items. The Blades of Urdual also have a subforum, visible to Blades only, where useful information about certain things in-game is given (such as map walkthroughs, item locations, and more).
1.2. Guild rules
All Blades of Urdual must follow the guild rules. Blades who fail to follow a guild rule might be removed, depending on which guild rule they didn't follow.
The guild rules are:
Be accepting of others, regardless of race, gender or opinion.
Do not attempt to cheat or hack in order to aid yourself or anyone else.
Do not deliberately ruin anyone else's gaming experience through blocking, insults or micspam.
Do not steal from other people. This includes items in non-personalised reward chests.
Do not beg for items. If you have a particular item in mind, contact myself or the vice guildmaster and we will have a look in the guild bank.
Do not recruit for the Blades of Urdual in servers that belong to other guilds.
Do not distribute your guild crest amongst those who are not Blades.
1.3. Alliances
The Blades of Urdual are not allied with any guild at the moment because the last remaining guild that we were allied with no longer exists.
2. Joining the Blades
2.1. Application
Those who are serious about joining the Blades should carefully read this section.
If you want to join, you:
Must understand what the guild is about. (see 1.1.)
Must agree to follow the guild rules. (see 1.2.)
Must have a forum account.
Must post your application in this thread along with your current max. HP, max. mana and character level.
2.2. Trial
If you apply you will be put on a trial. During this trial at least one Blade of Urdual will join you in-game (likely multiple times) to determine what kind of person you are.This is so we can be sure that you are not a person who will damage the reputation of the guild.
2.3. Crest and private subforum access
If you pass the trial you will be allowed in the in-game BoU party. The guild leader will also grant you access to the hidden Blades of Urdual subforum. If you need a guild crest, contact me or the vice guildmaster and we will provide you with one.
2.4. Recruiting
All Blades of Urdual may recommend a new member to the guild leader, but only people in the Outer and Inner Circles of Urdual and Balance (see 3.4.) may recruit. A few select Blades, next to the guild leader, are entitled to give crests to new members.
3. Guild Populace
At the moment, we have
13
active Blades. The guild roster, as well as rank information, will be made available to you upon induction into the Guild.
3.1. Rank information
The Blades have a unique ranking system, devised by J-M many a year ago, which gives you a rank based on your HP, mana and overall character level. On top of this, there are also 6 Circles which represent how long you have been in the Guild. Your rank and circle will be assigned to you when you join.
4. Guild media
4.1. The crest
Ex-member Sabre remastered Belmont's version of the Blades of Urdual crest, bringing us to version 7.
Here you can see the skin: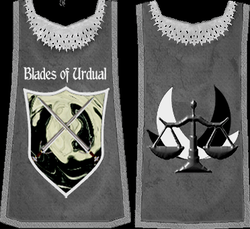 And here is an in-game picture: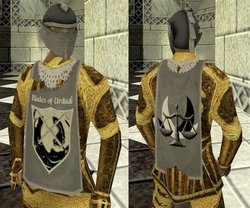 4.2. Miscellaneous
Ex-member Alvar has remade the old Blades of Urdual avatar:
Link for people who want to use this as their avatar (right click, copy):
http://i35.photobucket.com/albums/d175/ ... avatar.jpg
Ex-member Sabre has made a BoU HUD replacement which looks like this:
Blades can download it
here
.