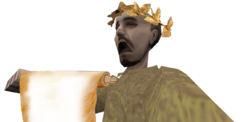 Hear ye, hear ye!
The administration would like to alert the general populous of these fine lands, of the establishment of an "
Alpha Testing Group
"!
Those that wish to enter the group and partake in the bug smashing and legless race festivities should post "
AYE!
" within this thread!
Developers, and various other members, have been pre-selected as a matter of course!
You will be given access to a subform with further information upon your arrival!
That is all!​